Environmental Protection Industry Drives the Development of Plastic Recycling Equipment
Views:257 Author:Site Editor Publish Time: 2020-03-02 Origin:Site
After many years of use, plastic roads have been proven to have a long service life, which can eliminate and mitigate roadbed damage caused by the instability of substructures on the roadbed. Some governments with strong environmental awareness in foreign countries can actively stimulate the recycling of waste plastics and promote the development of their environmental protection industries and businesses through practical demonstrations and practices and this has become an important part of sustainable economic, social and environmental development select.
Development trend of domestic plastic processing equipment
(1) Where conditions permit, through various methods, including joint ventures and cooperation, continue to learn from foreign advanced products and processes and equipment to develop China's plastic granulators and improve technical level.
(2) Breaking the boundaries of the original industry, plastic machinery has served all industries and developed in depth, and it is possible to transition to guide market consumption, but it must be noted that the guidance for the development of plastic recycling equipment must be correct.
(3) Individual visionary and powerful enterprises have started to increase their investment in science and technology, and accelerated the acquisition of high-quality management and scientific and technological personnel in order to further develop and compete with the world's powers.
(4) Social professional collaboration will gradually mature. Some plastic recycling machine manufacturers will focus on expanding their business in a local market.
(5) The domestic medium and low-end market capacity will be squeezed smaller and smaller. Some enterprises are reorganized. Some companies will reduce the proportion of plastic machinery and diversify into multiple operations. Some companies will avoid domestic vicious competition and open foreign markets.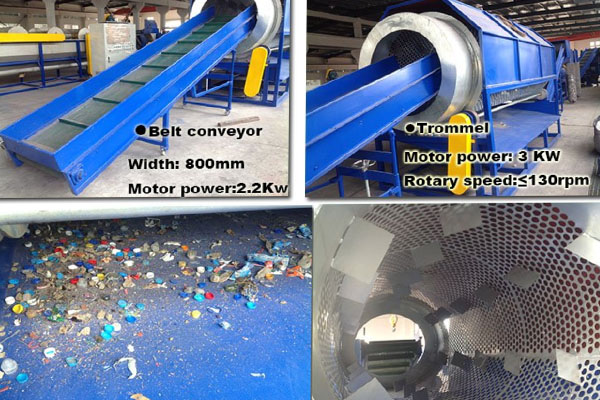 The development direction of Chinese plastic processing equipment:
(1) According to the requirements of users, design and manufacture suitable equipment specially for users to solve their process difficulties.
(2) Starting from the development of plastic products, provide plastic machinery users with a full range of services from products, process formulas, equipment and after-sales services.
(3) The key factor to establish the success or failure of users in the market competition is the concept of equipment, and strive to operate equipment at high speed, high efficiency and energy saving.
(4) Keep up with the progress of materials science and adapt new equipment to the processing of new raw materials.
(5) Learn from the technological development of related industries in time and apply the latest scientific and technological achievements to this industry. Such as the scientific and technological achievements of electronics, telecommunications industry, automobile industry and aerospace industry.
(6) There are cases of optimization and reorganization among enterprises, but no large-scale coalition of large chemical companies has been seen. As foreign specialized cooperation is very mature, the scale of plastic recycling machine china enterprises will not be too small.