Where to Buy Professional Granulator Machine
Views:251 Author:Site Editor Publish Time: 2019-07-10 Origin:Site
Ever since industrial development and success, on the one hand, if we have observed progress in making plastic materials, we have also found that different waste material is also formed. With the advancements in technology, we' ve come to realize and understand that the waste material should be recycled and used again in industries. For this purpose, plastic recycling equipment can be used. However; the whole machine which converts the waste materials into pellets is a pellet granulator machine.
If you are running an industry, you may be thinking where you can purchase these granulator machines. Different companies are looking to produce the said machine; however; I want to mention a granulator machine manufacturer named Sever Stars Machinery.
Seven stars is a China-based plastic recycling company working from the past 15 years. I want to mention here that there are different forms and parts of a pellet granulator machine, and each has its working procedure and set of rules. To give you a better understanding of the Machine made by Sever Stars Machinery, I am adding a few details below.
A section of this plastic recycling equipment is technically known as PP PE agricultural film die-face pelletizing line. This line is used for recycling of bags, belt, sheet wire, and plastic film. This line has a compatible structure, reasonable layout and also it has low noise and low power consumption.
PE/PP film compacting type pelletizing line is also a part of our pellet granulator machine discussion. This is a series type film recycling and pelletizing line used for pelletizing and recycling of film. It makes the automatic feeding material easier by compacting the thin material into small granules without the help of a compacting machine. The efficiency of this line eventually helps the whole production system.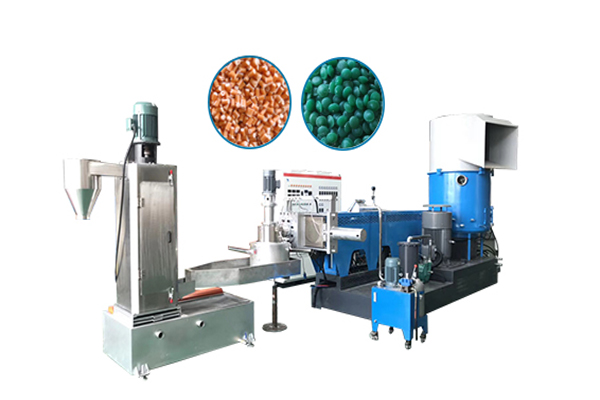 Another essential part included by this specific granulator machine manufacturer is a double-stage side force feeder line. This particular line is responsible for processing PP, PE waste film flake or rigid flake. The advantage of this line is that it provides better melting to the material and the material, as a result, is cleaner. From Seven Star Machinery' s website, it can be studied that this particular line is suitable for dirty material.
Although, I am sure that after reading the qualities of the granulator machine till the moment, you had understood the advantages of the machinery. However; few advantages are mentioned here.
The PP PE agricultural film die-face pelletizing line is made up by the combination of different materials like agglomomerator, belt conveyor, vacuum exhaust system, extruder, screen changer, die cutting, and water ring die. The advantage of these different materials is that you don' t have to worry about changing the whole line in case the line gives any fault. You can change the specific part of the line to continue the efficiency.
The pellet granulator machine applies to different materials like a sheet of low thickness than 0.5mm, bag, and waste plastic film.