What Kind of Equipment is Needed in the Waste Plastic Recycling Line?
Views:228 Author:Site Editor Publish Time: 2020-03-09 Origin:Site
Regarding the treatment of waste plastic, many people still stay in the way of garbage plastic incineration. This treatment of waste plastic incineration is not only highly polluting but also a waste of resources, because most plastics can be recycled. So, what about the waste plastic recycling production line?
Waste plastic recycling production lines are mainly divided into two types. The first is waste plastic granulation, which is more common, but the granulation process is cumbersome and the cost is higher. The second is waste plastic cracking and refining, which is also a new type. The waste plastics treatment method can reasonably fully recycle the waste plastics and can also obtain better returns.
Plastic buckets, plastic bags used in industry, containers in the textile industry, rayon, packaging materials in the home appliance industry, foam cushions, shrink films in the canning industry, stretch films, mulch films in agriculture, greenhouse films, fertilizer bags, fishing nets, floats, etc., bumpers and rubber pads dismantled from scrapped vehicles, as well as various plastic bags and woven bags in domestic garbage can be processed through waste plastic processing production lines reuse.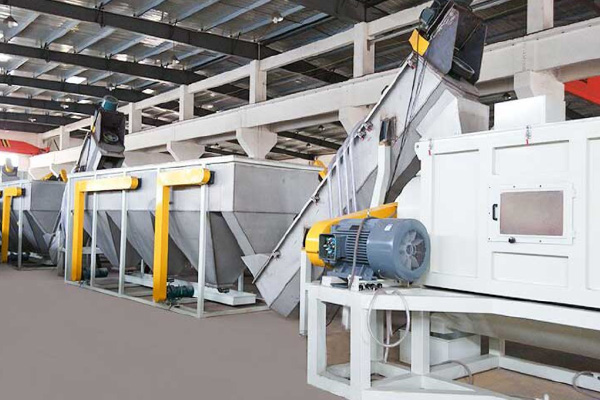 The waste plastics listed above can be seen everywhere in life. They are large, easy to collect, and inexpensive. If suitable recycling can be obtained, it can not only solve the problems of garbage pollution and land occupation caused by waste plastics being stored everywhere, but get considerable profits. Therefore, a waste plastic recycling granulator is very feasible.
At present, the common plastics used for cracking oil refining are mainly plastic bags and woven bags in domestic garbage, agricultural mulch film, greenhouse film, and fertilizer bags. These waste plastics can crack oil well, but there are also some waste plastics. We do not recommend cracking to produce oil. The two materials, PVC and PET, are not suitable for cracking. These two materials are waxier. The oil produced is not good for waste plastic cracking equipment and is not easy to be blocked on the wall.
Sevenstars is a famous city for all kinds of plastic extrusion and plastic recycling machine. Better service and providing prompt services to our fast-growing global customer base, we have built four standard workshops and established a skilled after-service team and an efficient sales team, Our goal is to become one of big and famous suppliers in the plastic machinery industry, offering high quality products and good service with competitive prices.