What is PVC Pipe Used for?
Views:223 Author:Site Editor Publish Time: 2020-04-07 Origin:Site
Compared with traditional metal pipes, PVC pipes have the characteristics of low resistance to water flow, lightweight, hygienic safety, corrosion resistance, high compressive strength, energy-saving, and metal saving. They can improve our living environment. Not just that, these pipes have a long service life and could be installed conveniently and favored by the engineering community. For this reason, many plastics manufacturers in developed countries have cooperated extensively with the pipeline engineering community, investing a lot of workforces, material resources, and financial resources to carry out comprehensive development and research. Thus, the raw materials are synthesized and manufactured.
Technology and Design
The technology and design of the PVC pipe production line are manufactured. The theory and construction technology have been developed and improved, and a wealth of practical experience has been accumulated. It has led plastic pipes to occupy a significant position in pipeline engineering. It has formed an unstoppable development trend.
With the rapid progress of powder polymer materials technology, the development and utilization of plastic pipes have also continued to deepen. In the past two decades, major achievements have been made in the development, production, and promotion of plastic pipes in China. Today, commonly used plastic pipes include polyvinyl chloride (PVC) pipes, polyethylene PE pipes, cross-linked polyethylene (PEX) pipes, and polypropylene. The other commonly used pipes include (PP) pipe, ABS engineering plastic pipe, steel-plastic composite pipe, and aluminum-plastic composite pipes. PVC pipes can be used in water supply and drainage pipeline engineering, medical, chemical, heating, industrial pipeline, food processing, and other fields.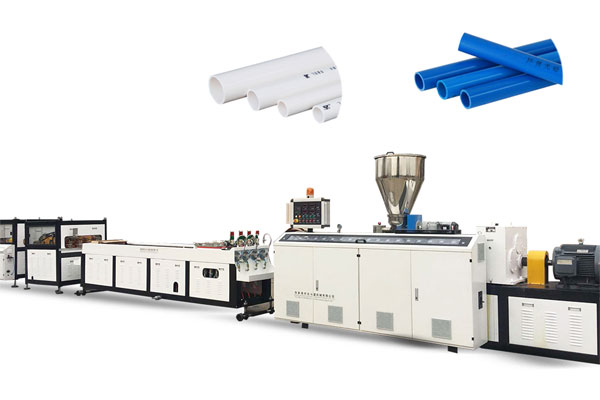 Application Areas of PVC Pipes
There are diverse application areas where PVC pipes are installed and used for years. Some of these include the following:
1)Building air-conditioning systems, drinking water pipeline systems, underground water drainage pipes, swimming, and hot spring pipes.
2)Industrial pipeline system
3)Food processing pipeline system
4)Piping system of water supply and sewage plant
5)Agricultural irrigation
Main Applications of PVC Pipes
PVC pipes could be used in daily life applications. These pipes have a vacuum blister film. It is used for the packaging surface of diverse panels. This film is also recognized as a decorative film. When it comes to building materials, then PVC pipes are preferred. They are durable, long-lasting, and safe to use. For that reason, many industries use them for creating materials. Around 50 percent of the building material industry depends on the PVC pipes.
Many china PVC pipe extrusion line manufacturers understand the increasing demand for PVC pipes. Due to this reason, they are producing the PVC pipe making machines in numbers. PVC pipes are commonly used as drainage and water supply pipes. They do not generate any chemicals at high or low temperatures. For that reason, they are safe for the water supply system. Also, they are used as household pipes, commercial machine housings, products, and food bundling. The installation is convenient due to which companies and individuals could use them without trouble.
With the growing demand and production of PVC pipe making machines, the developers are working on the PVC pipe making machine line price. They understand the importance of this machine and PVC pipes due to which many developers are offering the machines at a reasonable price.