Participation in ArasPlast 2019 Exhibition in Dubai
Views:24 Author:beidouxing Publish Time: 2019-01-05 Origin:Site
As you can see in the picture, this month we participated in ArasPlast 2019 from 5 ~ 8 January 2019 in Dubai World Trade Centre, Dubai, UAE.
Booth No.: 1B110-3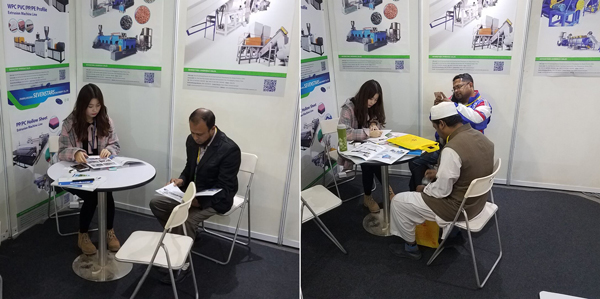 ArabPlast 2019, the largest trade expo for plastics, petrochemicals and rubber industry in the MENA region, is set to bring together key players and experts in the sector from around the world in Dubai in early January.
Let's see more information about ArasPlast 2019 Trade Show:
Arabplast is ranked as No. 1 show in the region in plastics, petrochemicals and rubber and related industry.
The trade expo shall showcase innovative ideas, technologies and new products in the wide spread sectors of plastics, petrochemicals and rubber viz. plastic machinery, plastic/rubber processing technology, pre and post-processing systems, plastic packaging technology, injection moulding, blow moulding, wrapping technology, extrusions, chemicals and additives, semi-finished goods, engineering plastics and plastic products, and more!

We met with our old customers and make friends with more new customers during the trade show. Many customers were interested in our plastic pipe extrusion line and asked for more details about our machines. Through this trade show our brand and influence have been expanded in the Middle East and North Africa market.

Since its establishment in 2006, Sevenstars has been committed to providing customers with the following high-quality products:
1. PP PC hollow sheet extrusion line
2. WPC PVC/PE/PP profile extrusion line
3. PVC crust foam board extrusion line
4. PVC WPC door board extrusion line
5. PE pipe extrusion machine line
In the plastic recycling machinery industry, we have rich experience in production, sales and export.
If you are interested in our plastic pipe production line products, please feel free to contact us for details.