New Arrival: PET Bottle Washing Line
Views:226 Author:Site Editor Publish Time: 2020-03-20 Origin:Site
Waste PET bottles are undoubtedly the largest component of the world's plastic recycling raw material market. After cleaning and recycling, PET recycled bottle flakes can be widely transformed into a variety of products. Therefore, the continuous improvement and development of PET cleaning and recycling sorting technology was born, and the bottle source was recycled to the greatest extent. From the worst raw materials to the best results, this is the solution Sevenstars Machinery strives to help customers achieve.
With PET bottle washing recycling line, the unified disposal of plastic waste after recycling is no longer a problem, and its ability to directly and directly handle waste can save a lot of labor for the global plastic bottle pollution treatment. Its working processes are as follows:
1. Sorting
The raw materials used in PET cleaning factories are three kinds of flakes, whole bottles, and tie-in bottles. No matter whether the whole bottle is used or packed, the preliminary sorting work is required. Sorting is to sort out single-color PET bottles from whole bottles or bundled bottles to pick out miscellaneous materials, iron, rubber, wood, rags, miscellaneous bottles, PE bottles, PVC bottles, etc.
2. Off-label
Out-of-label is a very troublesome thing. The foreign technology is different from the domestic one. Therefore, so far, there are no products similar to the labeling machine abroad. Mineral water bottle de-labelling machine is one of the few PET invented equipment invented by the Chinese.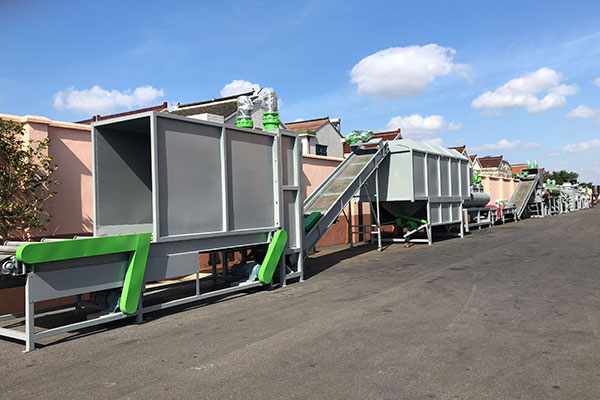 3. Crush
Smashing is to crush the single-color pure PET bottles that have been sorted into pieces. There are two kinds of dry powder and gouache. At present, gouache is used in China. The equipment is cheap, high efficiency and no dust pollution.
4. Prewash
After being crushed, the flakes carry a lot of dirt such as sand, debris, oil, etc. The pre-washing process is to wash away impurities such as sand, debris, and other easily removed water. The role of prewashing is mainly to reduce the burden of the main washing process, reduce the amount of cleaning agents, reduce costs, control pollution and improve product quality.
5. Main wash
Main washing is a key step in PET bottle washing line. In this process, a cleaning agent is used, and some processes also require heating. The purpose is to wash away stubborn stains such as oil, glue and ink. The traditional process is to use hot alkali as a cleaning agent, and heat it to 95-98 ℃ and stir it in a mixing tank for 30 minutes to remove the oil and glue stains.
6. Rinse
The main washed bottle flakes are very clean, but a small amount of cleaning agent is still adhered to them, which affects the quality of the bottle flakes. The purpose of rinsing is to wash away these cleaning agents and bleach away the floating materials in the bottle tablets.
7. Manual sorting
This process can be eliminated if the product is very well sorted. If the sorting is not very good, or if you mix in miscellaneous materials during crushing, you must go through a manual sorting process to manually pick out miscellaneous materials and miscellaneous materials.
Sevenstars launched new pet bottle washing line, which is in excellent quality. Better service and providing prompt services to our fast-growing global customer base. Our goal is to become one of big and famous PET bottle washing line manufacturer in the plastic machinery industry, offering high quality products and good service with competitive prices. Welcome to enquiry!