How to Choose Reliable PVC Pipe Extrusion Line Manufacturer?
Views:239 Author:Site Editor Publish Time: 2019-07-16 Origin:Site
As a retailer, business owner or a simple consumer, your choices are very important. This is especially so when you are dealing directly with manufacturers. In the case of the PVC pipe extrusion line business, there are essential factors you need to consider when choosing a PVC pipe extrusion line manufacturer. Of course, you are interested in marketing high quality and standard products to attract more customers in addition making a positive reputation.
It is usually a daunting experience when looking for a responsive and credible manufacturer. In fact, most customers today find it very difficult and worry about working with new PVC pipe extrusion line manufacturer. This is because probably do not have any knowledge of the best way to go and are engrossed with the fear of the authenticity and quality of the products and equipment that will be sold to them.
Such customers may not also be aware of the most suitable double screw extruder type to select for the manufacture of various sizes of pipes. Such thoughts can be overwhelming especially when the machines are substandard and not of good quality or if you are not familiar with the machines.
This can become a headache for you if you are not familiar with the machines, or if the machines are not of good quality.
However, to ensure that you succeed in choosing the right and reliable manufacturer, there are some factors that need to be considered.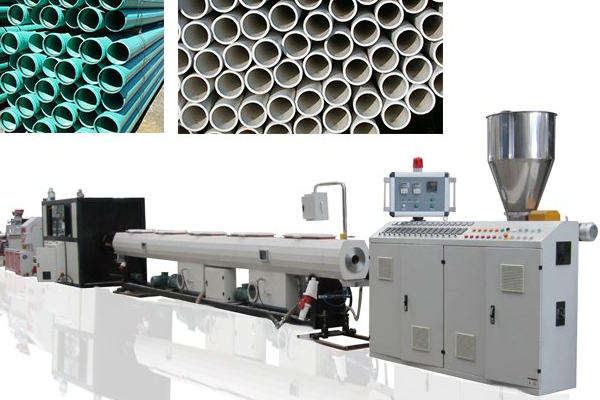 Let' s get started!
Here, you would have to consider the raw materials. As you know, the raw materials to a large extent determines the quality of the product. In the case of the PVC pipe extrusion line, you will have to consider raw materials such as the PVC resin powder, the stabilizer, calcium carbonate, stearic acid, CPE, carbon black and paraffin powder. It is also important to consider the formulations i.e. the quantities of all the ingredients.
You also need to consider the type of PVC pipe making machine used in the production process. The PVC pipe making machine is a whole production line consisting of different components including the haul-off (tractor), vacuum tank, extrusion mold, PVC pipe extruder, and collector or stacker. The PVC pipe extrusion line manufacturer should be able to have a complete set that is appropriate for the manufacture of your preferred good.
Another factor to consider is the competence and level of experience of the manufacturer as it goes a long way in determining the quality of the product that is likely to be delivered to you. But the big question to ask is how to determine the competence of your supplier. Now, there are various ways to achieve this. The commonest amongst them is by way of going through reviews of others. Those from close friends or business colleagues who have dealt with them. Another way of sourcing reviews is by doing so via the review section of their website.
Today, there are different market available PVC pipe extrusion equipment, with varying models and capacity. Your choice will depend on the application. Again, you will also have to weigh your budget. PVC pipe extrusion production line price varies and also depends to a large extent on some factors such as model, capacity and more.