How to Choose a Suitable Plastic Recycling Granulator?
Views:220 Author:Site Editor Publish Time: 2020-05-20 Origin:Site
Brief introduction of plastic recycling granulator
Plastic recycling granulator is the general name of the machinery for recycling waste plastics (daily life and industrial plastics). The pyrolysis technology of plastics is only in the stage of experiment and research, so the plastic regenerator mainly refers to the recycling and pelletizing equipment of waste plastics, including pretreatment equipment and pelletizing equipment.
The necessity of plastic recycling
The traditional treatment of plastic is not by plastic recycling granulator, but it's through landfill and incineration. Landfill not only needs to occupy a large number of sites, but also easily causes the generated leachate to enter into the surrounding surface water or soil if the anti-seepage measures are not appropriate, which poses a long-term serious threat to the environment around the landfill and the health of residents. Direct incineration of waste plastics may produce dioxin to pollute the atmosphere. After incineration, toxic and harmful substances in the bottom ash are further enriched, which still needs to be landfilled or further harmless treatment. Therefore, it is more advantageous to recycle and reuse the waste plastics after separation. Different plastics can be collected, classified and granulated for use as recycled plastics, or the plastics can be reduced to monomers through pyrolysis and other technologies to participate in polymerization again, so as to realize the recycling of resources. Recycling of waste plastics is not only environmental protection, but also can be used for secondary use, saving resources.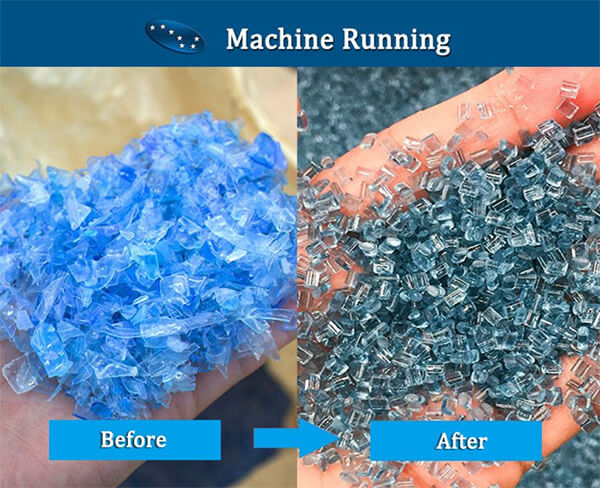 A

reliable plastic recycling granulator
Established in the year of 2006, Sevenstars machinery was originated as a family business within a relatively small scale. However, with developing its research and development department, innovating its manufacture line and enhancing its management mode, it gradually becomes a medium size plastic recycling granulator supplier in China. Their main products are plastic recycling granulating line, plastic extrusion line, and other auxiliary machines.
The company is located in the city of Zhangjiagang, which Zhangjiagang is a famous port city in Eastern of China, the advantage of its geography division provides benefits to the goods shipping to the foreign country.
Sevenstars Machinery has more than 100 staffs, and their factory covers an area of nearly 200,000 square meters. They also have their own after sales service team, and sales consultant. And in the recent years, we also take part in trade fair and business fair to introduce our products to the customers in all over the world, and to communicate the industrial experiences to other companies.
It would be a bright choice for you to choose us as your business partner, for the reason that we are actually highly evaluated by customers from all over the world from more than 150 countries. And we are also highly keeping in touch with our clients. For example, Thailand as one of the target markets of our company, customers from Thailand visit our factory very frequently. And customers from India also visit us for ordering the plastic recycling granulating line in 2018. (shown as photo).
We are looking forward to provides you a considerate service in future.